Description
Kindly note that this used handbag was loved in its past life and therefore it may have developed areas of wear. Please view all photos and descriptions carefully and reach out if you have any questions prior to purchase. 
Features

Features monogram canvas, natural cowhide trim and golden brass hardware

Great for cosmetics or as a carry-on personal item

Open exterior pocket, rolled leather handles, double zip closure

Washable lining with pockets and elastic bottle holders.

Colour

Brown

Material

Coated canvas with vachetta leather 

Style

Monogram

Brand

Louis Vuitton

Date code
SL 0992

Made in

France, September 1992

Included items
N/A

Exterior condition notes

Canvas:

Exterior monogram canvas in excellent condition with no fading, rubbing or cracking
Canvas wrist strap in excellent condition

Leather:

Vachetta leather is soft, supple and well conditioned in all areas
Vachetta piping in good condition with marks but no cracking
Vachetta corners and trim have minor marks but no cracking
Stitching in excellent condition throughout
Exterior zipper pocket has peeling and sticking and is deemed unusable

Brass:

Zipper pulls are bright and shiny with minor tarnish
Zipper runs smoothly and is bright other than one section of dark tarnish

Interior condition notes

Interior zipper pocket has peeling and sticking and is deemed unusable

Interior cowhide has areas with rubbing but no scratches or tears
Light storage scent that will dissipate over time

Sizing details

(Width x Height X Depth):

 11" x 7" x 2"

Strap Length:

 

6"
All products are guaranteed to be genuine and are authenticated through Authenticate First. Every bag comes with a soft touch luxe authenticity card provided by VTG LUX. Further authentication documents from Authenticate First are available at an additional cost. 
VTG LUX is not affiliated with Louis Vuitton. Louis Vuitton is a registered trademark of Louis Vuitton.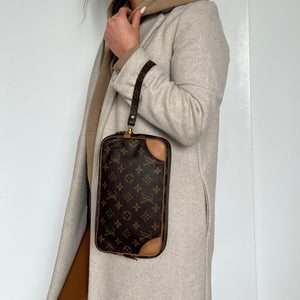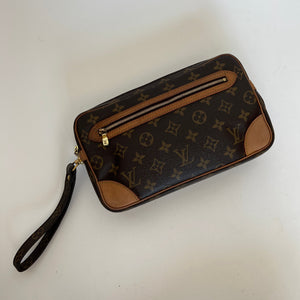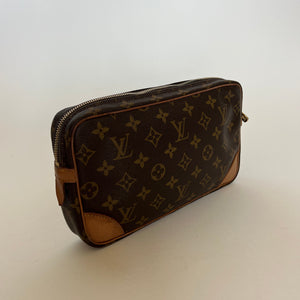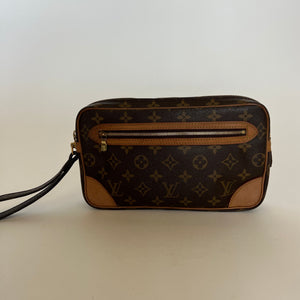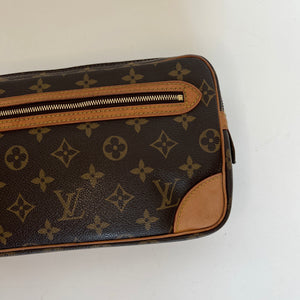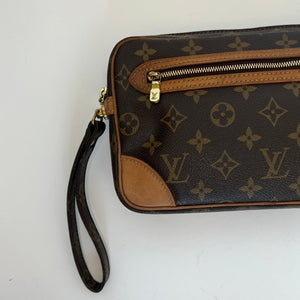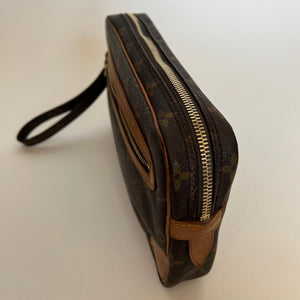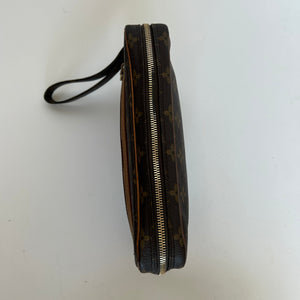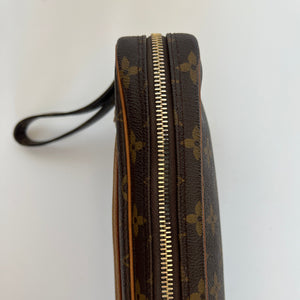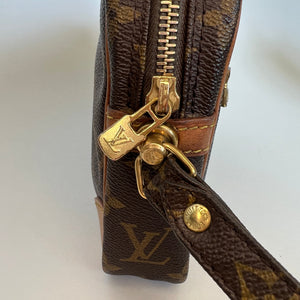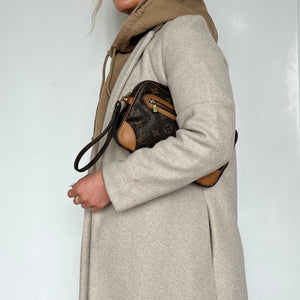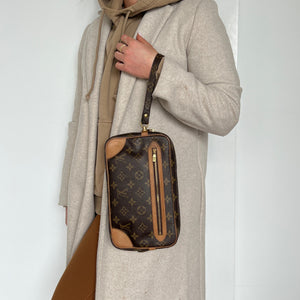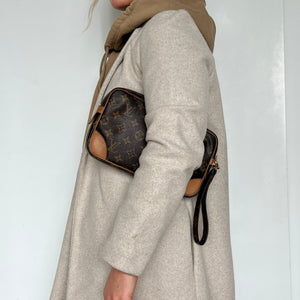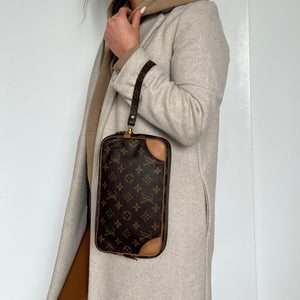 Louis Vuitton Marly Dragonne GM
Recommended
You might want to take a closer look.